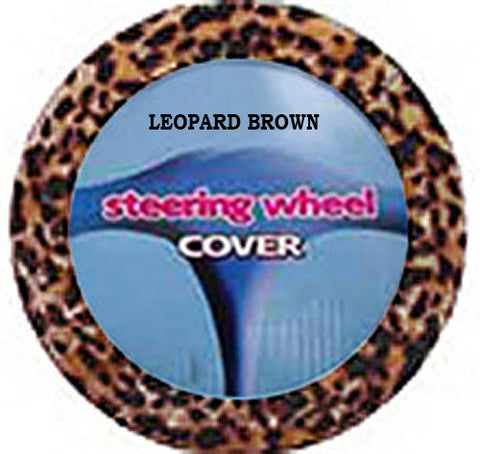 Sale
Fuzzy Steering Wheel Cover - Leopard Brown
$17.99

$14.99
---
Add style to your car's interior with this beautiful Leopard Brown furry steering wheel cover. Our soft, luxury, furry steering wheel covers are designed to maximize your comfort behind the wheel and enhance your driving experience. Designed to fit the average 13.5"-14.5" diameter steering wheel, this easy-to-install, stretch-on car steering wheel cover is specifically developed for a snug, comfortable fit.
-----------------------------------------------------
 **  We also carry ** 

--   MATCHING   --
FUZZY DICE  (with "Color-Your-Dots" capability!) *
&
REAR VIEW MIRROR COVERS **
------------------------------------------------------
- We guarantee all "matching" items you purchase will come from the same dye-lot, ensuring a 100% match (unlike some of our competitors)!   In other words, we promise that this Leopard Brown fur steering wheel cover matches our Leopard Brown furry dice and Leopard Brown furry rear view mirror cover perfectly! (*Please note the Leopard Brown steering wheel cover and Leopard Brown rear view mirror cover match with our 3-Inch Leopard Brown dice only, and not the 4-Inch Leopard Brown dice.)
- We now offer gemstones and other bling as furry dice "dot" options, so for those of you hoping to match up your cute steering wheel cover with an additional item, the possibilities are virtually endless!
- Great for personalization or customization!


EXCITING NEWS!!
FOR THE FIRST TIME EVER, in addition to having the standard black dot and white dot options for fuzzy dice, you now can customize your dots!  Choose from DOZENS of dot colors and gemstones to create your own custom dice, and match your car perfectly, inside and out!
THOUSANDS of car accessory combinations available!